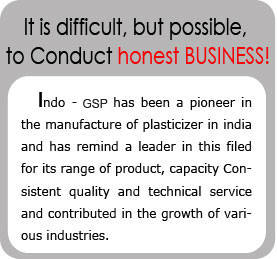 Company
Indo-Nippon has become a leading manufacturer and supplier of plasticizers to various industries & still continues to be in pursuit of excellence.

At Indo-Nippon Chemical Co. Ltd, our mission is to provide our customers superior products to meet their chemical needs with the techno-commercial support to meet their business needs.

We are able to serve our customers in markets across the globe & our mission is to have a presence in all continents around the world in order to reach out to our customers.

Our mission is also to anticipate the current & future challenges & to deliver sustainable progress for our customers, employees and shareholders by ways of innovation, technology, experience and performance over the long term.


Committment :

With rapidly changing market conditions, we are committed to continuously adapting to meet our customers' needs. It's not enough for us to just have high-quality products, but we also have the techno-commercial support system to back those up. Our products must meet our high quality specifications as well as meeting our customer's specifications.