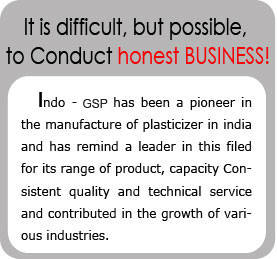 Mission
Our Mission is to be an excellent performing chemical company by all standards through our principles of -


Integrity
Unwavering commitment to truth, candor and objectivity; It is imperative that we operate our business in a simple, clear, transparent and honest manner.


Stewardship
Uncompromising with regard to quality and safety; we will operate our plants and run our business in a way that respects the environment and protects the health and safety of our stakeholders.


Planning
Designing a sustainable future by taking initiative with our thoughts, words and capital to validate our future condition and vision.


Discipline
Targeting the achievement of perfection based on solid execution, built on learning, training and restraint.


Innovation
Challenging the status quo, think differently and drive creativity to solve the problems that drive value. Past success does not necessarily lead to future success. Our stakeholders are counting on us.


Customer Fulfillment
Meeting and exceeding our customers' expectations to solve problems and provide seamless supply of our products and services. The key to leadership in our strategic markets is customer service. Our front line people put a face on our business and have tremendous influence. If they are tenacious, aggressive and proactive, our leadership will continue. Leadership is earned and not tenured and must never be taken for granted.


Communication
Communicating openly, honestly, and frequently in an active two-way process, is essential to success. Our leadership will listen to our stakeholders in an environment where all of our stakeholders feel they will be heard without repercussion. Good communication means where the organization is going and how it plans to get there. In this manner, we can align our team to achieve our objectives.


Teamwork
Manifesting great teamwork through hard work, high energy, enthusiasm and innovation. Positive mental attitude and trust make teamwork sustainable. Our business will thrive led by people, who truly enjoy what they do, who are excited by the challenges and energized by the possibilities.